Princess Miyumi and The Necro's Dungeon
A downloadable game for Windows
Author's note: This is the final version of this game. This game will see no further features updates, only fixes. Thank you for your support and feedback during development to help us shape the game into what it is today!
Warning: This game contains furry! OwO
Play as Princess Miyumi, Sir Fargus and Milla as they delver through the forbidden dungeon where the evil necromancer, Rayner is hiding. Defeat all the monsters, get stronger equipment and defeat Rayner once it for all.
Game Mechanics

Turn based battle with unique unleash attack each main characters.
Power up your character's stats by using LP points.
Special and Unique equipments, can you find them all?

Princess Miyumi Yamugi, the descendant of Yamugi family known with their talented priest or priestess. Wields a sword into battle, but relies heavily on magic to hit weaknesses and keep the party alive.

Sometimes infuses her sword with magic as she is about to strike the opponent, dealing extra damage based on her magic.

Sir. Fargus Winterpaw, the loyal first class knight of Fenrir Kingdom. Become Princess Miyumi's personal bodyguard. Loves treasures, womens, and days off under the sun. Brings out single target damaging skills that can do devastating damage, as well as a party defense buff.
Sometimes, when sun and moon energies align, a simple attack can become one that ignores half of the enemy's defense, and heals Fargus for half of the resulting damage.

Milla Mikaela, a trained markswoman and also Fargus' childhood friend. Most always shoot first, have several multi-target skills early and is the only fox around. Yeah.
Sometimes, her arrows can use the enemy's own strength against them...

Rayner, The evil necromancer who steals soul and blood to achieve the true power of Necromancy. Not someone to be friend with.
Credits

Avery
Hiddenone
KADOKAWA/Enterbrain
Wingless Seraph
ÆKASHICS
Andy Chen
Yanfly
Fallen Angel Olivia
Galv
SumRndmDude
CasperGaming
RPG Maker Irina
Atreyoray
Karberus
JGreene
Azel
Special Thanks

HawkZombie
The Feathered Dead Discord Server
Tactician Daraen (My Co Dev)
TrueCynder for HawkZombie sprites and facesets
And of course...You!
Updates

Version 1.1.1

Credits menu has been updated.
Added one secret skill for Milla (Which must be discovered and solve the puzzle first to earn this skill).
Added new accessory at hidden place.
Enemies and skills has been rebalanced.
Added new dialogue during CloudzChow ending.
Magical skills now no longer have Critical Hit.
Default animation speed has been changed to 2 (Faster).
Default message speed has been changed to 10 (Fastest).
Miyumi's Sagittae has been replaced with Ward.
Milla's Wish has been replaced with Tormina's Pride.
Added "Faster Play Mode" for Game Jam event only.
Dragon Armor set has been slightly nerfed.

Version 1.2.2

All dungeons are now darker and need to be light up with torches. (It might unlock something too)
Reduce enemy roaming speed and enemy spawns.
Adding Hawktober Game Jam 2019 bundle pack.
Adding Patch Notes in title menu.
Adding restriction to use Silver Tip Arrow skill before Rayner's second form battle.
Removing EXP bar from main menu.
Removing Formation option from main menu.
Adding teleport back to second shop area after defeating Hades.
Minor bug fixes.
Font changes for better view.
Adding new damage pop up.
Give 100G as starting money.
Adding 3 special chests before the boss each area if light up all the torches in that area.
Adding 3 main actor's crest power which triggers at small chance when they attack.
Changing the function of Confusion state. Now it has 50% chance to success the attack or hit themself.
Changing the default save menu.
Dead party now receive 25% EXP penalty. (From 100% by default)

Version 1.2.3

Fixed a teleporter bug at the Ancient Demon Ruins where the player can enter and return to second merchant shop before defeating Hades.
Milla now resist against confusion state.
Fixed Fargus' weapon able to be used by Miyumi upon using Hawktober 2019 bundle pack.

Version 1.2.4

Adding splash screen.
Fixed version typo on title screen.

Version 1.3.5


HawkZombie Mode! You can now play as the host of the Hawktober 2019, HawkZombie himself!
Guarding now recovers 20% MP instead of 5%.
Wild Dialouge Mode! Some dialouges will has mild languages that won't suitable for below 18+!

God damn it, Cloud, since when has this been THAT kind of game with the filter off...

Fixed name box dialouge bug on Fargus during Library Cutscene.
Mimic has buffed up. (I hope)
Adding a clue how to solve the puzzle on The Ancient Library.

Version 1.4.6

New mechanic for HawkZombie Mode.

Rebalance of skills
Some dialogue added

Some elemental weaknesses added.

Version 1.4.7

Fixed the bug where HawkZombie Mode dialogue appears on second merchant shop in Normal gameplay mode.
Comments
Log in with itch.io to leave a comment.
I can't comprehend what I'm supposed to do here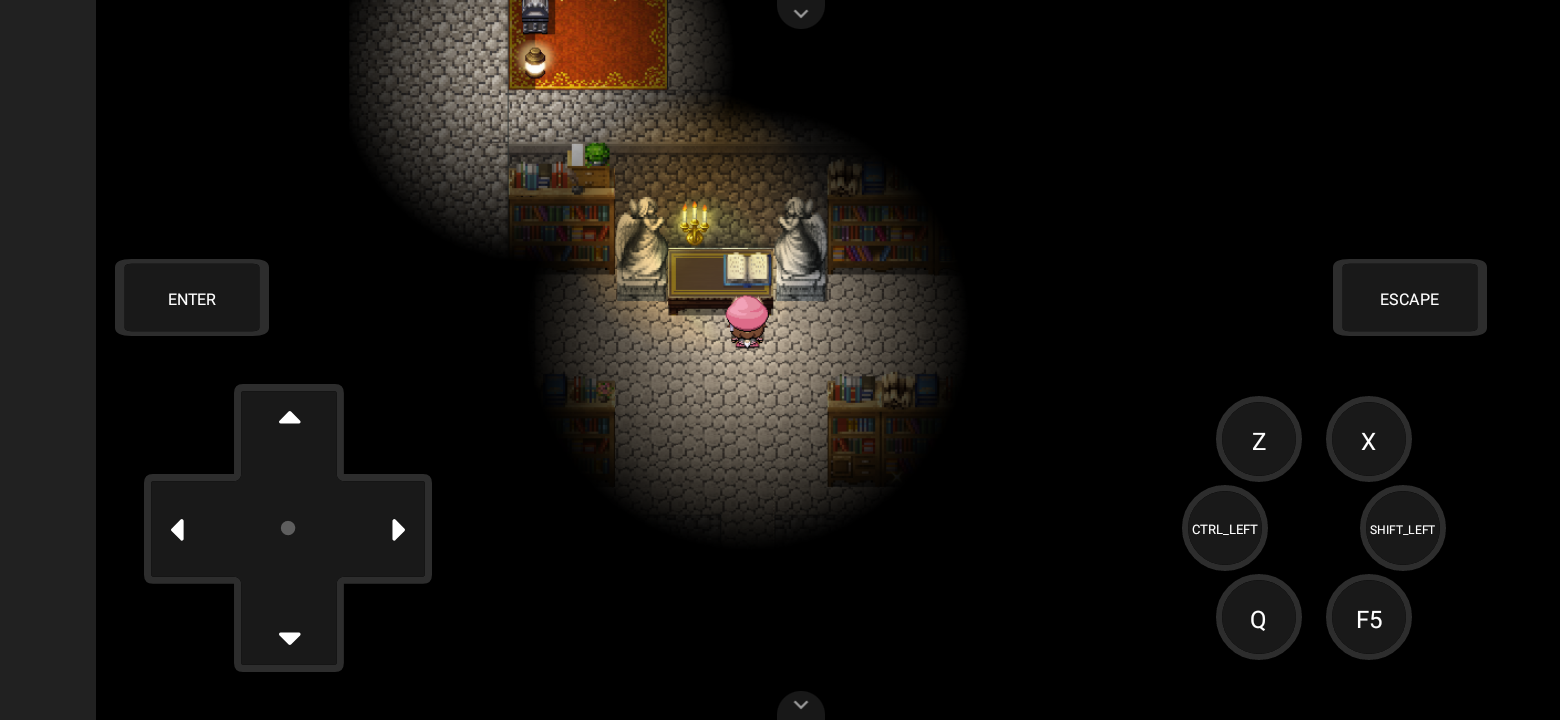 I'm not joking but I just solved it by just interacting with the statues like left right left right until it just opened 👍 Big brain.
The puzzle was made by my friend who wanted challenging puzzles so he adding that, but glad you solve it!